Il Casale degli Ulivi - Contrada Ciafone - Offida (AP)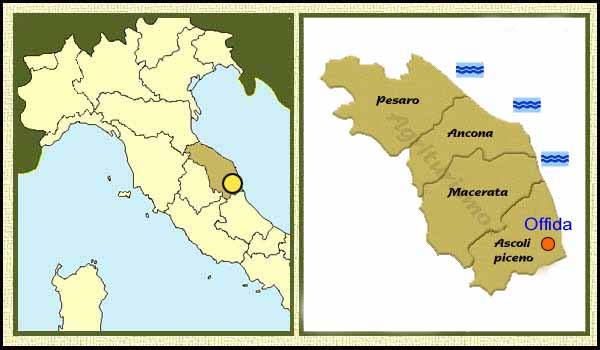 "Directions to Casale degli Ulivi"
Coordinate satellitari del "Casale degli Ulivi" e foto dal satellite
42.955571, 13.743290
google maps
From Ancona airport: Take the A14 toll motorway south towards PESCARA. Leave the A14 at the GROTTAMMARE exit. Turn immediately right, following OFFIDA road signs and continue along the Valtesino provincial road.
After 13 Km turn left going uphill for OFFIDA,
At the top you reach a crossroads.Turn left following signs for ACQUAVIVA PICENA.
Then follow the SAN BENEDETTO DEL TRONTO signs.
Exactly 4,5 Km after the crossroads
you will see a signal where saying "RIPATRANSONE" - Bandiera arancione-.
Turn right and go up a white track.
After passing the gate for Villa Chiesa S.Giovanni in Strada and going downhill
for 200 metres you will see the wonderful view
of Casale degli Ulivi.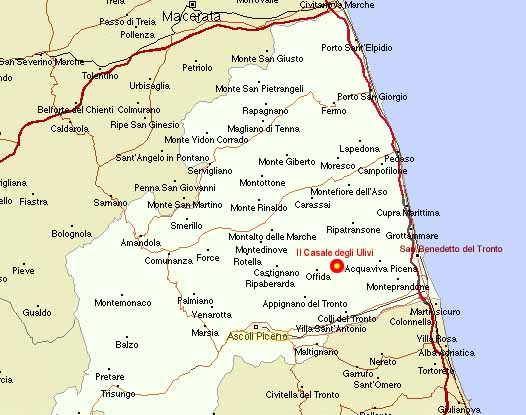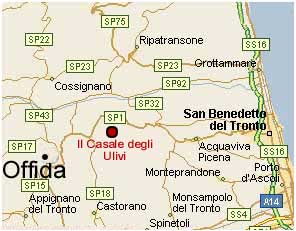 | | |
| --- | --- |
| Distances | KM |
| Km from the sea of San Benedetto del Tronto ( Blu Flag): | 14 |
| Km from the first town of Borgo Miriam (food market, restaurant, bar, bus): | 3,5 |
| Km from medieval country of Offida | 6 |
| Km from medieval country of Acquaviva Picena | 5 |
| Km from medieval country of Ascoli Piceno | 20 |
| Km from very good restaurants with local special plats: | 3 |
| Km from sports centres (tennis, football, horses country places, golf): | 6-8 |
| Km from ANCONA Airport: | 90 |
| Km from PESCARA Airport: | 90 |
| Km from the first Hospital: | 11 |
For further information:
Sig.ra Adina Giobbi
Mobile Adina Giobbi 0039 320 30 80 989 Tel and fax 0039 0735 59 29 02

Via Pisa n. 6 – 63039 San Benedetto del Tronto (AP) Italia