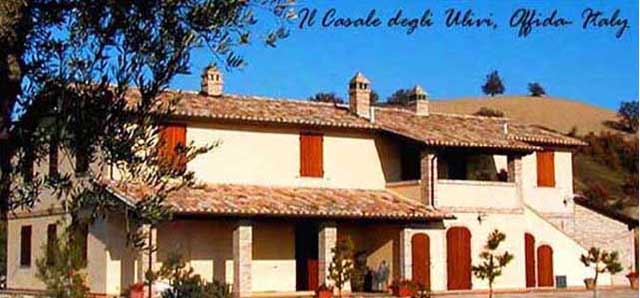 is a typical rural marchen country house, recently restructured.
Composed by two floors of about 480 square meters in total, the perfect place in the country
to spend wonderful holyday, for a maximum of 22 persons.
The Casale of Ulivi is characterized by a sunny position and a delighful 360° sight
over the charming hills, over the vineyards of Rosso Piceno Superiore
and over the Appenninics mountains summits.
Il Casale degli Ulivi stands in a wonderful olive grove of about 1 hectare
where we can find a swimming pool (6x12 metres, deep 1,5 metre)
to easy relax in a magic atmosphere.
There is a tennis court that has a wonderfull view on green hills and mountains.
The Casale degli Ulivi farmhouse is positioned at 350 metres above sea level and is distant
from the sandy beach and sparkling sea of the famous San Benedetto del Tronto
(a city among the palms) only 13 km and this fact gives a climate
less variable than other cities in the interland.
The Casale degli Ulivi guests can also use a delighful fireplace placed in an external
barbecue place, built with bricks, located near the house, to roast and cook embers food.
There is a large parking area and a lot of green spaces all around the house.
Lovely furnishing in a country style, simple and confortable.
On the ground level, the old cattle sheds have been transformed in an apartment whith an indipendent entrance called "La Lanterna"
On the ground level, there is also another very nice little apartment for 4 persons,
called"La Cantina"
You can reach the upper floor by a typical external staircase made in travertino and bricks.
This apartment is called "La Loggia".
---
It is possible to book all the apartments together or only one of them